仁川探検
仁川の12ヶ月
May: Baseball picnic filled with happiness and dream
Incheon Munhak Baseball Stadium "SK Happy Dream Stadium"
Though there are couple of sports enjoyed as entertainment, professional baseball would be the most popular leisure activities in Incheon.
About half of the year, there is a baseball game almost every day. During the season, Incheon is called by another name, "SK Wyverns."
The number of home games is much more than other sports - soccer and volleyball are less than 20, and basketball is barely 30. With the coverage of the media, it is fairly natural for baseball to be the main topics for people.
Without big issues, politics or economy cannot engage public attention. But from elementary schoolers to ajae, Korean uncles, baseball games have become a juicy gossip like soap-operas or shopping for women. There are some special places for such "baseball stories" across the nation. For Incheon, it is the Munhak Baseball Stadium located in Munhak-dong, Nam-gu. It has changed its official name as "Incheon SK Happy Dream Stadium" since 2015. As one of the top stadiums in the country, it has produced many unparalleled features.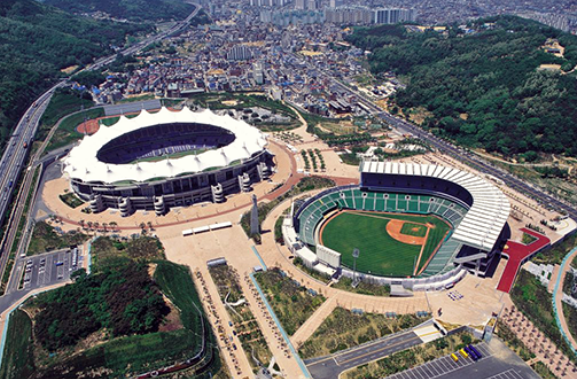 Situated at 300 meters away from Munhak Sports Complex Station of Line 1, it has good accessibility. The Munhak Main Stadium, which hosted the 2002 FIFA World Cup Korea/Japan, is nearby. Even before the opening, many baseball fans anticipated the birth of Korea's top stadium which is "as good as Major League Baseball Stadiums." The stadium is said to be modelled on the LA Dodgers Stadium which is familiar to domestic fans because of several Korean players like Park Chan Ho, Choi Hee-seop, Seo Jae Weong, and Ryu Hyun-jin. The panoramic view of the two stadiums looks different, yet a close view shows some similarities between them. It is deserved to be called "well-made" stadium.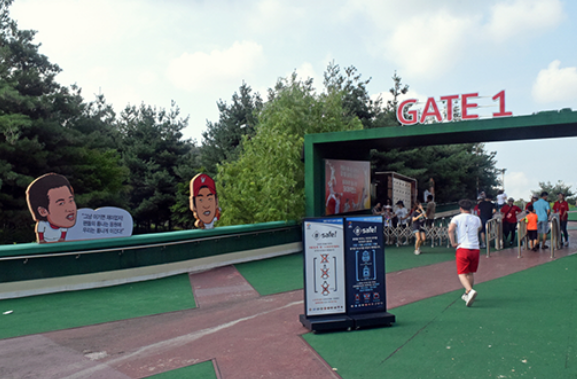 Since its opening in March 2002, it has been the SK Wyverns' home turf. With its quality infra, it had been praised as a high-end ball-park until the advent of Gwangju-Kia Champions Field, Daegu Samsung Lions Park, and Gocheok Sky Dome after 2010. Unlike most of the existing stadiums built in the 1980s such as Jamsil and Sajik Baseball Stadium, it opened in the early 2000s and served as a bridge in the development of the Korean Baseball stadiums. For the last 15 years since its beginning, it held 3 times' all star games - 2002, 2005, and 2008. That represents its recognized quality.
Incheon Munhak Baseball Stadium "SK Happy Dream Stadium"

Club: SK Wyverns
Location: 618 Maesohol-ro (Munhak-dong), Nam-gu, Incheon
How to get to the stadium: 5 minutes on foot from Munhak Sports Complex Station of Line 1
Seating capacity: about 26,000
Opening: March 2002
At first, the stadium tried to ma